Another Month, Another Couple of Towns Wiped Out by Tornadoes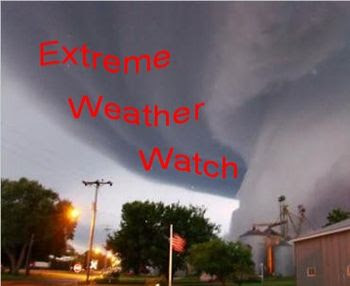 By John Lawrence
June 2014 was one of the worst months on record for extreme weather. Tuesday June 3 saw baseball size hail, 100 mph wind gusts and 11 tornadoes in South Dakota, Nebraska, Iowa and Missouri. In Omaha and Des Moines there were hundreds of reports of hail. Trees toppled on autos. Wind damage was mostly from derecchio winds. Derecchio winds are straight line winds which can be as damaging as tornadoes.
In Blair, Nebraska, officials said nearly every home, as well as any car that was parked outdoors, was damaged. The courthouse alone sustained more than $1.2 million in damage because, after hail shattered windows and skylights, rain penetrated inside. The insurance price tag in Nebraska and western Iowa will soar into the hundreds of millions of dollars. Although a handful of tornadoes were reported, baseball-sized hail and flooding rains left the biggest mark.
Blair resident, Donna Jones, said she saw widespread damage when she went to work Wednesday morning. "Everybody is in a daze," Jones said. "There's not a house that isn't touched." The Woodhouse Auto Family, which owns car dealerships in both Iowa and Nebraska, said on Facebook that about 4,500 vehicles were damaged across their properties. Hoods were dented and windshields were shattered. Company officials Wednesday estimated damages at $162 million. Hail smashed house windows and damaged siding. Police in Blair said 20 people were taken to the hospital with injuries. In several other cities, streets were flooded and trees were knocked down. Power was out.
By Thursday June 5th power outages remained across portions of Kansas, Missouri, Kentucky and Tennessee following strong winds associated with the storms Wednesday night and Thursday morning. More than 6.8 inches of rain fell in two hours early Thursday morning at Centerville, Tennessee, as a flash flood warning was posted for the area.
Omaha, Nebraska, had its wettest June day in history on Tuesday, breaking a 139-year-old record with 5.30 inches of rain and single-handedly wiping out its rainfall deficit for 2014.
By Thursday roof damage was reported in Lindsborg, Kansas, where 90-mph winds were estimated behind an area of decaying thunderstorms. Baseball-size hail was reported in at least two locations in Kansas. The storms then tore across the Ozarks before reintensifying over northeast Arkansas, where at least one building was destroyed by straight-line derecchio winds.
On June 16 tornadoes in Nebraska killed at least one person. 16 others were taken to hospital in critrical condition. At least 2 tornadoes touched down, one a mile wide.
Also on that day there were wildfires near Bakersfield, CA. Gusty winds were not helping. Three and a half square miles burned. Five hundred homes were evacuated.
The Tiny Town Too Tough to Die
On June 18 twin tornadoes ripped through Pilger, Nebraska.There were two EF-4 tornadoes with 200 mph wind speeds. The total devastation belied the town's motto, "The tiny town too tough to die." The rare twin tornadoes wiped out the town's business district, obliterated its fire station and ground 40 or 50 homes into rubble, Stanton County Sheriff Mike Unger said. The City Hall, Public Library, Fire Department and Midwest Bank were gone. As much as three quarters of the town of 350 is gone. Two people died during the storm including a five year old girl.
On the same day that Pilger was destroyed, a tornado damaged more than 40 houses and dozens of businesses in Wessington Springs, South Dakota. The same system that brought devastating tornadoes to Pilger, Nebraska and Wessington Springs, South Dakota doused parts of South Dakota, Iowa, Minnesota, Wisconsin, Nebraska and Illinois leading to historic flooding in some areas. After a week of heavy rains and rising waters, the floods that have developed in the Midwest had become deadly.
Also on June 18 California banned open burning on 31 million acres. There have been more than 2000 wildfires this year in California, 70% more than average. At the same time temperatures around 100 degrees F were recorded in Philadelphia and Washington, DC. Fire on a Navajo reservation burned 19 square miles on the Arizona and New Mexico border.
In Minnesota a state of emergency was declared in 35 counties on June 19 after days of heavy rain led to widespread flooding. Minneapolis set a record for the wettest June since record keeping began 140 years ago. Homes in over half the counties in the state of Minnesota have been impacted by flooding. In just 8 hours 6 inchs of rain fell in the St Paul/Minneapolis area. More than 25 inches of rain have fallen so far this June in the twin cities area. In Saint Paul the Mississippi River is at 20 feet – 6 feet above flood stage. Rivers will be at flood stage till after the 4th of July and beyond if rain continues to fall. Farm losses in Minnesota are at $7 Million so far. Mudslides threatened a hospital in Saint Paul.
Farm fields are under water, roads have been washed out, dams have failed and water has infiltrated homes from the far north to the far south of Minnesota. Four state parks have been fully or partially closed because of high water. "The damage is really unprecedented and very widespread," Gov. Mark Dayton said before boarding a plane to southern Minnesota along with U.S. Sens. Al Franken and Amy Klobuchar.
Damage assessments already total in the millions even before surveying can start in many places soaked by downpours over the past week. Some lakes and rivers swelled to record levels, with others not expected to crest for days, if not weeks.
Record Rainfall, Record Floods, States of Emergency Declared
Gov. Daugaard declared a state of emergency for South Dakota on Tuesday. Daugaard also ordered the opening of the State Emergency Operations Center to monitor the effects of the torrential rains and coordinate the state's response. The Red Cross also opened an emergency shelter to help people who have been evacuated or can't reach their homes because of the flooding.
Sioux Falls, South Dakota obliterated its previous wettest month on record, 9.42 inches in May 1898, taking only half the month to do it. Through June 21, 13.39 inches of rain had soaked Sioux Falls, which is over half the average yearly precipitation of 26.38 inches. Sioux City, Iowa, broke its wettest month on record Friday, and by Sunday, Sioux City's total had reached 13.25 inches, well above the old single-month record of 11.78 inches in May 1903.
Along the South Dakota-Iowa border, the town of Canton, South Dakota, was hit hard by flooding earlier in the week, and many homes were destroyed.
"I have nothing left. It's all gone," said Canton resident Dale Larson.
Within a 24-hour time span between Monday morning and Tuesday morning (June 22), 8.43 inches of rain was measured in Canton, about 20 miles southeast of Sioux Falls. According to the National Weather Service, this was the third highest 24-hour precipitation total in state history, narrowly missing the all-time record of 8.74 inches on May 6, 2007 in Groton.
The flooding stretched over the border into western Iowa, where Rock Rapids and Rock Valley have been partially evacuated. In Rock Rapids, about 60 homes have had water waist deep or higher, Mayor Jason Chase said, and many have shifted from their foundations or have damaged basement walls.
"This is the worst I've seen and I've been here since 1997," he said. Several families remain in a Red Cross shelter, Chase said.
Gov. Terry Branstad and Iowa Homeland Security and Emergency Management Department Director Mark Schouten surveyed damage in Rock Rapids and Rock Valley on Wednesday.
Rock Valley, about 20 miles southwest of Rock Rapids, requested pumps and sandbagging materials from the state after a levee broke on Tuesday night. The river is receding, but a local shelter still is available for residents needing to leave their homes.
The Big Sioux River set record flood levels at Hawarden and Akron where it peaked Tuesday. A levee also was breached in Akron, causing several residents to be evacuated late Tuesday night and early Wednesday. The city pumped out floodwaters to protect City Hall and other buildings.
Downstream, the Omaha Public Power District said it will reduce power as it prepares for rising water on the Missouri River. The district's Fort Calhoun nuclear power plant sits about 20 miles north of Omaha, and was surrounded by water during flooding three years ago.
In southern Wisconsin, a line of thunderstorms that spawned twisters rolled through late Monday and early Tuesday. The town of Madison was hit hard. Mayor Paul Soglin said about 25 homes were damaged by the storm, which caused about $10 million in damages.
The National Weather Service said it appeared a tornado touched down and lifted several times in the Mineral Point and Verona areas. At least 19 homes in Verona, near Madison, were damaged so badly they were uninhabitable. The weather service said two tornadoes touched down in Plateville.
Some parts of the Midwest — including parts of Iowa, Minnesota, South Dakota, and Nebraska — received 5 to 10 inches of rain over the course of a week, an amount that's the equivalent of two months of rainfall in the region. In Minnesota, the rain caused mudslides and forced evacuations.
"Right now what we're seeing is a statewide disaster, really," Sen. Amy Klobuchar (D-MN) said Sunday. "From International Falls on the Canadian border down to Luverne on the Iowa border, it really covered the whole state."
The rain has damaged corn and soybean crops, according to local reports, with water slow to drain from farmers' fields. If farmers can get the water off their crops over the next few days, the crops could survive, and soybeans can be replanted this late in the season. The rains also elevated river levels, which could temporarily halt grain shipments in the region.
As rains soak the Midwest, California is parched, with 100 percent of the state in the most severe stages of drought. California Gov. Jerry Brown linked the state's epic drought and ramped-up wildfire season to climate change last month, saying that the severe weather patterns prove that "humanity is on a collision course with nature."
Science has shown that climate change will exacerbate — and likely already is exacerbating — heavy rainfall and drought conditions throughout the U.S. These events are sometimes sequential: long periods of drought can be followed by torrential downpours, making it difficult for the parched soil to absorb the rain and leading to flooding.
As the month ended, the midwest was continuing to experience more torrential rain, flooding, damaging winds, tornadoes and hail. The worst was not over.